Line 19:
Line 19:
 

* ''"Come hewe wittwe woodwand cweatuwe."''

 

* ''"Come hewe wittwe woodwand cweatuwe."''

 

* ''"I'm not ''

 

* ''"I'm not ''

 
+

*He He He He He he he he!

 
+
 

[[Category:Characters]]

 

[[Category:Characters]]

 

[[Category:Antagonists]]

 

[[Category:Antagonists]]
---
Revision as of 05:11, 3 April 2021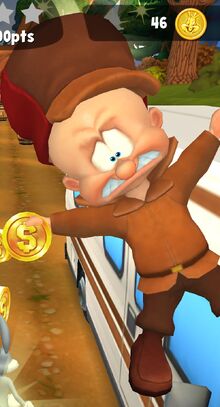 Elmer Fudd is one of the antagonists of the Looney Tunes franchise. In Looney Tunes Dash, he is the main antagonist of the Bugs Bunny levels, chasing Bugs Bunny, until he is defeated when Bugs jumps back into his rabbit hole. In the Daffy levels, Elmer Fudd serves as his secondary antagonist.In the Tazmanian levels, he's on a cart where he tries to get Tazmainian Devil's true love.
He is voiced by Jeff Bergman.
Quotes
"I wove woodwand cweatuwes."
"Come back, wabbit!"
"I got you now, wabbit!"
"Howd stiww, wabbit!"
"That bwasted wabbit!"
"I'ww get you next time, wabbit!"
"Oh, fiddwesticks!"
"Ooh, that makes me so mad!"
"Gotcha you wabbit stew!"
"Finally, I've got you. Ha, ha, ha, ha!"
"Wevenge is a dish sewved cowd."
"Shh. Be vewy, vewy quiet."
"Come hewe wittwe woodwand cweatuwe."
"I'm not
He He He He He he he he!